Fibromyalgia & Rheumatism Solutions
Do I Have Fibromylagia?
Fibromyalgia, previously also known as muscular rheumatism and fibrositis, is a condition characterized by aching muscle pain, muscle knots and muscle stiffness in many parts of the body.
It is associated with feeling tired, fatigue, and poor memory.
Patients with fibromyalgia often suffer from insomnia and poor sleep.
Fibromylagia can cause very significant personal distress, making it hard to walk, needing time off work, affect a person's social interactions and result in depressed mood.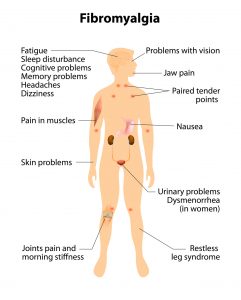 Do I Need To Do Blood Tests, X-ray or MRI?
Investigations such as blood tests, X-rays and MRI's can sometimes help with diagnosis by excluding other medical causes of a patient's symptoms.
However as blood tests can be unpleasant and MRIs can be costly, they should be used only when necessary for your specific symptoms.
How Can Fibromyalgia, Fatigue and Insomnia Be Treated?
The treatment of fibromyalgia is often difficult. Many patients consult multiple doctors, specialists, and alternative healthcare providers with limited success.
A combination of medications and physiotherapy can offer some relief of symptoms.
Your doctor might start suggest some painkillers, antidepressants and even anti-seizure medications.
Physiotherapy is another recommended option using techniques such as manual therapy, stretches and muscle strengthening conditioning.
Physiotherapy can can have good results when properly applied.
Unfortunately many patients face difficulty getting the regular appointments and personalized attention of a physiotherapist needed to achieve good results.
Why Are My Treatments Not Working?
While treatments of Fibromyalgia can be effective, patients may experience problems such as:
Side effects from the strong pharmaceuticals
Difficulty finding a suitable physiotherapist
High cost of long-term treatments required
Limited improvements in severe cases
I Am Worried About The Side Effects Of Long-Term Medication. What New Treatment Options Can The Pain Relief Clinic Offer For My Fibromylagia?
At The Pain Relief Clinic, we adopt a biomedical targeted approach that addresses how the multiple aspects of fibromylagia affect you.
This allows us to provide treatment strategy using medical technology in a comprehensive and cost-effective way.
Depending on whether you suffer from muscle aches, tiredness, insomnia or fatigue, some of the useful options that can give good results include:
Dietary Correction
Indiba Therapy which gives rapid and long lasting recovery from pain
Non-Invasive Shockwave which stimulates deep tissue healing very cost effectively
Rehabilitative Electromedical Stimulation
Shockwave Therapy
Non-Invasive Shockwave Therapy For Fibromyalgia
An internationally established method of treating pain and inflammation through stimulating tissue repair
Approved by the US FDA and EU CE marked German technology
Available at half the price offered by other medical centres
If you are suffering from fibromylagia, or if your condition has not improved despite other treatments, we are able to help.
Simply call us at +65 6732 2397
or leave a message below for Dr Tan to discuss a customized non-invasive solution for you.
The 7 Day Pain Recovery Program
Our Doctor
Dr. Terence Tan
MBBS(Singapore), GDFM
Membership:
Pain Association of Singapore,
Singapore Medical Association
Call for Appointments
Our Location
350 Orchard Road
#10-00 Shaw House
Medical Suites @ Orchard
Singapore 238 868