Shockwave, also known as Extracorporeal Shockwave Therapy, is a well established method of treating pain and inflammation through stimulating tissue repair.
Employing high energy acoustic waves, shockwave induces new blood vessel growth and tissue regeneration, thereby treating many pain conditions.
Although introduced to Singapore for well over a decade as an option for pain relief, its use has up till recently been limited by the small number of doctors offering this option.
Treatment with earlier generation shockwave machines were also quite painful, usually requiring local anesthesia.
They were also very costly devices resulting in expensive treatments, which not many patients could afford.
Fortunately medical technology research in recent years has resulted in new devices which provide much more comfortable treatments and no longer require any local anesthesia injections.
They have also dramatically brought down treatment costs and made shockwave very affordable to patients with pain.
Shockwave therapy been clinically used to treat:
Plantar fasciitis (foot pain)
Achilles tendinopathy (heel pain)
Hip pain
Knee pain
Lateral epicondylitis (tennis elbow)
Rotator cuff tendinitis (shoulder pain)
Myofascial trigger points (body aches and muscle pain)
Back pain
Neck pain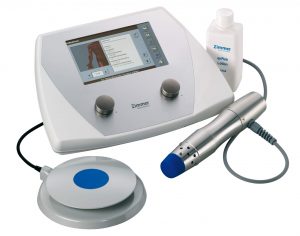 Clinical studies have demonstrated extremely high success rates, even in cases which have failed to respond to conventional approaches.
What sets this treatment apart from traditional treatments is that it treats the musculoskeletal pathology instead of just offering symptomatic relief.
Approved by the US FDA and EU CE marked, the German Shockwave technology offered at The Pain Relief Clinic is recognized by doctors around the world.
Treatment charges for Shockwave Therapy start from $150 per session for standard conditions at The Pain Relief Clinic.
If you are unsure of the cause for your aches, pain and stiffness, or if your condition has not improved despite other treatments,
Simply call us at +65 6732 2397
or leave a message below to find out whether shockwave is a suitable solution.
Ask Dr Tan a Question about your problem
HOW IT ALL BEGAN
The Pain Relief Clinic started providing non-invasive medical therapy in 2007. Our brand of cost-effective pain treatments combines traditional techniques with new medical technology to achieve fast and long lasting results. We have since grown into an international medical group of doctors and physiotherapists with clinics in Singapore, Surabaya and Jakarta.