Arthritis refers to a condition where there is inflammation and damage of the joints. It often causes patients to experience pain, stiffness, redness and swelling of the joints. This can severely affect a person's ability to work, exercise, socialize, and even their ability to carry out simple daily tasks like wearing clothes.
Fortunately there are many ways to treat arthritis very effectively.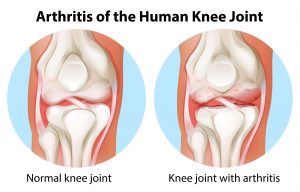 What Causes Arthritis?
There are different types of arthritis, each with different causes. The 2 most common are Osteoarthritis and Rheumatoid Arthritis.
Osteoarthritis is related to wear and tear of cartilage, and often associated with trauma and other joint injuries.
Rheumatoid arthritis is associated with an over active immune system which results in joint inflammation.
Gout, another relatively common type of arthritis, is associated with abnormal metabolism. This causes increased levels of uric acid in the body and uric acid deposits in the joints, resulting in inflammation and pain.
There are also less common causes of arthritis associated with infection, psoriasis, and other diseases which can also affect patients.
How Do I Know if I have Arthritis?
If you experience any of the symptoms described above, or suspect that you have arthritis, always consult an arthritis doctor in Singapore for further advice. Your doctor will be able to review your symptoms and history, do a physical examination, and may also order x-rays and blood tests to determine the diagnosis.
What are the Treatment Options for Arthritis Patients in Singapore?
The treatment options for arthritis depends on its cause and may include many types of medications, joint injections, physical therapy and even surgery.
Your family doctor should be able to advise you on the recommended treatments available to properly treat your arthritis and may also refer you to an arthritis clinic in Singapore for further treatments.
Why Are My Treatments Not Working?
While treatments of arthritis in Singapore can be very effective, patients may experience problems such as:
Side effects from the strong pharmaceuticals
Difficulty finding a suitable physiotherapist
Being offered only standard treatment options with short term results
Not being able to afford the time and costs of frequent and expensive treatments
Can I Use Medisave And Medical Insurance To Pay For Treatments?
As our treatments are very affordable and cost-effective, many patients choose to self pay.
For those with insurance coverage, we are happy to help support medical claims.
Medisave is another very popular option to help pay for medical treatments.
Non-Invasive Treatment Options For Arthritis
At The Pain Relief Clinic, we adopt a biomedical targeted approach that addresses how arthritis affect you. This allows us to provide treatment strategy using medical technology in a comprehensive and cost-effective way. The aim of treatments is to improve your symptoms as well as to prevent long term deterioration and surgery. Depending on the severity of your condition, some of the useful options that can give very good results include:
Dietary Correction
Non-Invasive Indiba Activ Therapywhich gives rapid and long term results
Rehabilitative Electromedical Stimulation which stimulates deep tissue healing very cost effectively
If you are suffering from arthritis and your condition has not improved despite other treatments, we are able to help.
Simply call us at +65 6732 2397
or leave a message below for Dr Tan to discuss a customized non-invasive solution for you.
What To Expect When I Visit The Pain Relief Clinic
A typical visit will involve our doctor first understanding your medical history, concerns and previous experience with other pain treatments.
For patients who have consulted many people but have yet to receive a clear diagnosis, selecting an affordable imaging scan might be recommended to confirm the cause of your pain..
Some patients have already done scans with other doctors for their pain condition but are still not clearly told what they suffer from.
Dr Terence Tan is happy to offer you a second opinion and recommend how best to manage your condition.
We also see patients who already have a confirmed diagnosis from specialist pain doctors, but are "stuck" because treatment options offered are not practical or acceptable.
We can help by discussing options that you might have potentially never been told of.
A common experience is when a patient has already consulted a specialist doctor for pain management and is told to consider orthopaedic surgery which they find too aggressive.
Or they may have seen doctors for their pain and were prescribed painkillers with potential side effects which made them feel uncomfortable.
Many of our patients have also first tried complementary treatments or acupuncture with traditional Chinese pain doctors.
They look for a second opinion after finding any relief experienced from other treatments to be temporary or requiring repetitive treatments, which add up to time and cost.
Especially in such situations, we emphasize using non-invasive medical technology you likely have not been told about .
This can make a big difference to your results.
Contact us on Whatsapp