Neck stiffness is a very commonly encountered problem. Most people have experienced it sometime in our lives. It can be very severe and persistent and is also associated with arm and shoulder pain. It can affect a person's ability to sleep, concentrate at work, and sometimes even give rise to a headache.
Fortunately there are many new ways to treat neck stiffness very effectively.
What Should I Do If My Neck Is Stiff?
Neck stiffness may resolve naturally in many cases. However it is always important to consult a doctor if:
You are experiencing other symptoms like fever, light sensitivity and vomiting in addition to neck stiffness
You had an accident in which your neck experienced sudden movement
You are having a grating feeling when you turn your head
You are having severe neck pain along with the stiffness that is not relieved by medications
You feel a lump in the neck
Your neck pain or stiffness is accompanied with numbness and tingling sensations that may even spread to your hand
You are having trouble in swallowing or breathing
Is There Anything I Can Do To Relieve Neck Stiffness?
There are various ways to get relief from neck pain and stiffness. Some simple self care techniques include:
Applying a heat pack or cold compress
Neck exercises
Using a supportive pillow
Gentle massage therapy
Topical ointments and analgesic gels
How Can Neck Stiffness Be Treated?
As neck stiffness can caused by a wide variety of disorders, treatment has to be targeted according to the cause. Your doctor should be able to advice you on the optimal treatment options, or refer you to a colleague if different expertise is required.
In many cases, patients are started on medications and physiotherapy by their doctors. Injections and surgery may also be discussed as possible options.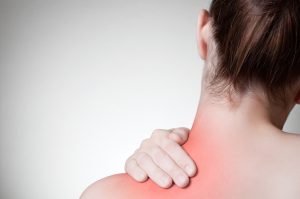 Can I Use Medisave And Medical Insurance To Pay For Treatments?
As our treatments are very affordable and cost-effective, many patients choose to self pay.
For those with Insurance coverage, we are happy to help support medical claims.
Medisave is another very popular option to help pay for medical treatments.
New Non-Invasive Treatment Options For Neck Stiffness

With the recent advances in medical technology, there are now quite a number of new treatment options available to patients with neck stiffness.
At The Pain Relief Clinic, we provide cost-effective and on-site Xrays, MRIs, and medical treatments for neck stiffness.
Even for patients with long-standing neck stiffness despite undergoing other treatments, we offer a number of particularly effective solutions for neck stiffness such as Shockwave Therapy.
If you are suffering from neck stiffness, or if your condition has not improved despite standard treatments and have been told to consider surgery, we are able to help.
Simply call us at +65 6732 2397
or leave a message below for Dr Tan to discuss a customized non-invasive solution for you.
The 7 Day Pain Recovery Program
Our Doctor
Dr. Terence Tan
MBBS(Singapore), GDFM
Membership:
Pain Association of Singapore,
Singapore Medical Association
Call for Appointments
Our Location
350 Orchard Road
#10-00 Shaw House
Medical Suites @ Orchard
Singapore 238 868